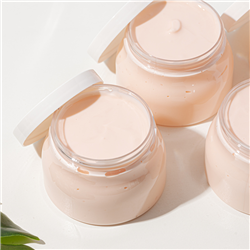 (Enlarge Image)
NOTE: If you are making these products for sale, good manufacturing practices recommend you wear a hairnet, gloves and a mask. We also recommend a clean apron and a covered work area.
To large measuring cup, add Emulsifying Wax, Stearic Acid, Safflower Oil, Sunflower Oil and Rice Bran Oil. Heat in microwave until wax is completely melted.
To second measuring cup, add distilled water. Heat in microwave for 2 minutes.
Slowly add the water to the wax/oil mixture. Start to blend using either hand mixer or stick blender.
Continue to blend until lotion starts to thicken. Once all ingredients are well blended, blend on high speed until thick.
In plastic beaker, mix fragrance oil and vanilla color stabilizer and let sit for 2 minutes. Mix in the mica powder to the fragrance mixture.
Add glycerin, vitamin E and fragrance mixture. This may thin lotion. Continue to blend until ingredients are fully incorporated.
Check temperature of lotion to be sure it is below 122°F. Add preservative and blend well.
Fill each jar to 6 ounces. Product will thicken further while cooling. Once cool, add lids.
Label product accordingly.
To Use
: Rub into skin as needed.
Ingredient Label:
Water, Emulsifying Wax, Safflower Oil, Sunflower, Rice Bran Oil, Fragrance, Stearic Acid, Glycerin, Vitamin E, Propylene Glycol, Diazolidinyl Urea, Iodopropynyl Butylcarbamate, Mica, Titanium Dioxide, Iron Oxide.