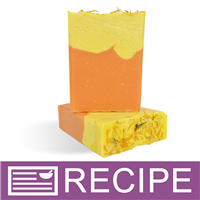 (Enlarge Image)
NOTE: This project and these instructions have been written for someone who has experience making soap and knows the potential dangers due to working with sodium hydroxide. It will not outline all safety methods of working with dangerous chemicals, it is simply a soap recipe for advanced soapmakers.
Wearing a face mask, prepare the lye solution by weighing the water and lye in two separate containers. Pour the lye into the water, carefully mix in a well-ventilated area and set aside to cool while you prepare your oils.
Measure the oils and butters and melt in the microwave.
Pour out a small amount (0.5-1 oz. each) of oils into 2 separate beakers to mix colors.
Using a mini mixer, mix 1 tsp. of Matte White Pigment Powder-For Oil into one container of oils.
In other container, mix 1/2 tsp. of Neon Orange You Glad Powder and 1 micro scoop of Matte Americana Red Oxide Pigment Powder. Blend well with the mini mixer.
To larger container of melted oils/butters, add the baby food (carrot puree) and blend with a stick blender.
When the oils and lye water are at approximately 120°F or lower, pour the lye water into the oils/butters and begin to stick blend. At light trace, add 1.75 oz. of Tangerine Fragrance Oil.
When soap reaches a medium trace, pour approximately 1/3 of the batter into a separate container and mix the Matte White Color/oil mixture into this container. Set aside.
Mix the orange color into the remaining batter. Pour into the Tall & Skinny Loaf Silicone Mold. We slightly textured the top of the orange.
Spoon the remaining white batter on top of the orange. Smooth out the top and sprinkle the Calendula Petals on top.
Let soap set in mold overnight. If it sticks to the sides of the silicone mold, let set for an additional 24 hours or place for 30 minutes in freezer before unmolding.
Once unmolded, slice soap and let cure for 4-6 weeks.
Package and label soap accordingly.
To Use: Lather onto wet skin and rinse with warm water. Avoid eye area.
Ingredient Label:
Coconut Oil, Olive Fruit Oil, Water, Avocado Oil, Palm Oil, Carrot Puree, Sodium Hydroxide, Fragrance, Shea Butter, Titanium Dioxide, Yellow 10, Red 28, Red 22, Yellow 10, Red 28, Red 22, Iron Oxide, Calendula.