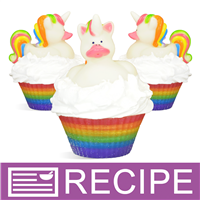 (Enlarge Image)
NOTE: If you are making these products for sale, good manufacturing practices recommend you wear a hairnet, gloves, and a mask. We also recommend a clean apron and a covered work area.
Mix 1.5 oz. Fairy Tale fragrance oil with 0.75 oz. vanilla color stabilizer in beaker and let sit for at least two minutes.
Cut Crystal Clear soap into small cubes and divide the soap into six mix & pour funnel pitchers putting 8 oz. into each cup.
Heat one measuring cup of soap in microwave in 30 second increments until melted.
Add 0.25 oz. of fragrance mixture and NuTone Purple to soap. Stir well.
Place cupcake liner on scale and tare to zero. Pour 0.40 oz of soap into liner, spray with rubbing alcohol, and move to jelly roll pan.
Repeat until all liners are filled.
Let purple layer completely solidify and repeat this process with the NuTone Blue, NuTone Green, NuTone Yellow, NuTone Orange, and NuTone Magenta in that order to make a rainbow. Spray each hardened layer with rubbing alcohol before pouring the next color.
Set finished cupcakes aside and start on the soap frosting.
Mix 1 oz. Unicorn Poop fragrance oil with 0.50 oz. vanilla color stabilizer in beaker and let sit for at least two minutes.
Cut up white soap and place in microwave-safe mixing bowl. Heat in microwave until melted.
Add Foaming Bath Whip and gently stir.
Heat Glycerin and Palm Kernel Flakes in measuring cup until completely melted.
Whip soap mixture and slowly add glycerin and palm kernel flake mixture while continuing to whip.
Whip entire mixture, scraping sides occasionally with spatula.
Once product starts to thicken slightly, add Fragrance Oil mixture and whip until incorporated.
Place in refrigerator for 30 minutes to one hour to thicken, if necessary. Remove and whip until product is thick and resembles frosting.
Using a pastry bag or Decorator Pro with desired decorating tip added to it, fill with soap frosting and decorate the top of each soap cupcake. Should your frosting start to harden up a bit before you have finished piping, heat and whip slightly with hand mixer to soften it.
Add Unicorn Duck to the top of each soap. If desired, add more soap frosting.
Use powder sprayer to spray soap frosting with glitter.
Let product sit for 24 hours. Once hard, package and label accordingly.
NOTE: To color your frosting, add small amount of liquid dye after adding fragrance. Liquid dye can thin out product if too much is used. Powder dyes can also be used.
NOTE: Unused product can be kept in air-tight container. When ready to use, warm slightly in microwave and whip with hand mixer to desired consistency.
To Use: Lather onto wet skin and rinse with warm water.
Ingredient Label:
Sorbitol, Propylene Glycol, Sodium Laureth Sulfate, Stearic Acid, Water, Sodium Hydroxide, Myristic Acid, Sodium Cocoyl Isethionate, Glycerin, Lauric Acid, Palm Kernel Oil, Sodium Chloride, Fragrance, Diazolidinyl Urea, Iodopropynyl Butylcarbamate, Fluorphlogopite, Titanium Dioxide, Tin Dioxide, Ultramarine Blue, Chromium Oxide Green, Iron Oxide, Manganese Violet.