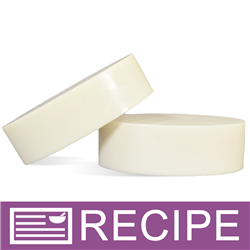 (Enlarge Image)
NOTE: If you are making these products for sale, good manufacturing practices recommend you wear a hairnet, gloves and a mask. We also recommend a clean apron, workspace and sanitized equipment.
Add 20 oz. of cut up Basic White MP Soap Base to a microwave-safe measuring cup. Heat in microwave until soap has completely melted.
Mix 0.60 oz. Vanilla Fig Fragrance with 0.30 oz. Vanilla Color Stabilizer. The fragrance contains 8.6% vanilla so the soap will discolor and darken if this is not used. Let mixture sit for 2 minutes.
Add fragrance mixture to soap and stir well.
Pour soap into all four cavities of soap mold. Spritz the top with rubbing alcohol to break up any air bubbles that may appear. Let harden.
Unmold then wrap all bars in airtight packaging.
Label product accordingly.
To Use: Lather onto skin and rinse with warm water.
Ingredient Label:
Sorbitol, Propylene Glycol, Sodium Laureth Sulfate, Stearic Acid, Lauric Acid, Water, Sodium Hydroxide, Glycerin, Titanium Dioxide, Fragrance.