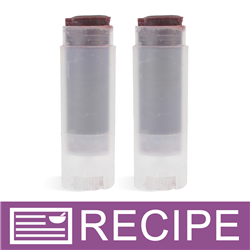 (Enlarge Image)
NOTE: If you are making these products for sale, good manufacturing practices recommend you wear a hairnet, gloves and a mask. We also recommend a clean apron.
To metal pot add coconut oil, cocoa butter, jojoba oil and shea butter. Heat over low heat until melted.
Scoop 1 tsp. of Alkanet Root Powder into small bath tea bag. Using an iron, seal the open side of the bath tea bag and place into melted oils.
When the oils and butters are melted, remove from the heat source. Allow the alkanet root to steep in the oils for a minimum of 2 hours. (The longer it sits the deeper the color will be.)
Once the oil/powder has infused, remove and dispose of the tea bag.
Place the pot back on the heat source and add the candellila wax. Continue stirring until wax is fully melted and then remove from heat source.
Add vitamin E and stir well.
When the mixture has cooled to approximately 160°F, pour into the plastic beaker.
Using the plastic beaker begin filling the tubes. If the product begins to harden, place the plastic beaker in the microwave to remelt.
When product has cooled completely, place caps on tubes.
Label product accordingly.
To Use: Apply to dry lips as needed.
Ingredient Label:
Jojoba Oil, Coconut Oil, Candellila Wax, Cocoa Butter, Shea Butter, Alkanet Root, Vitamin E.