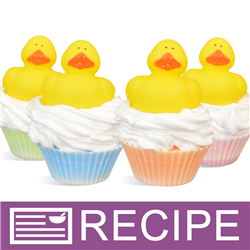 (Enlarge Image)
NOTE: If you are making these products for sale, good manufacturing practices recommend you wear a hairnet, gloves and a mask. We also recommend a clean apron and workspace.
Lay cupcake liners out onto a cookie sheet.
To microwave-safe measuring cup, add 4.5 oz. cut up white soap. Heat in microwave just until melted.
To a second microwave-safe measuring cup, add 3.0 oz. cut up clear soap. To this cup, add 0.10 oz. of first color block. Heat in microwave until melted. Stir soap until blended.
Let soaps cool to around 140°F. Add fragrance to white soap and stir well.
Each color of soap will fill three cupcake liners. Take one cup in each hand and pour white and colored soap together into first cupcake filling to the top. Pour soap into second and third liner. Using the end of a spoon, gently swirl soap around a few times to get a tye-dyed look. Spritz with rubbing alcohol and let harden.
Repeat above steps with next three colors and let all soap harden. Can be placed into refrigerator to harden soap more quickly. Remove from liners and set aside.
To large microwave-safe mixing bowl, add 8 oz. cut up white soap base. Heat in microwave until melted. Add Foaming Bath Whip and stir into melted soap to soften.
Using a hand mixer, whip ingredients until mixture starts to thicken.
In small glass bowl, add glycerin and myristyl myristate. Place in microwave and heat on low heat just until melted. Stir to blend.
Begin to whip product, then add glycerin mixture. Be sure to scrape sides of bowl with spatula.
Add fragrance and whip on medium-high until frosting starts to thicken. Let mixture sit for 5-10 minutes and let cool. If necessary, place bowl in refrigerator to cool and thicken.
Place a decorating tip of choice into decorator bag or plastic food bag. Cut off tip of bag and push the decorator tip through so it is sticking out of the bag. Fill with soap frosting.
Pipe frosting around the outer edges of cupcake, making a double layer. Leave a hole in the middle for the duck. Sprinkle with a small amount of glitter then place duck into the middle of cupcake pressing down so it sits in the frosting.
Continue in this manner until all 12 cupcakes are decorated. Let completely harden. Frosting should be hard enough to package after 24 hours.
Package one soap cupcake in a cello bag and tie with ribbon.
Label product accordingly.
To Use: Lather onto wet skin and rinse with warm water.
Ingredient Label:
CUPCAKES: Sorbitol, Propylene Glycol, Sodium Laureth Sulfate, Stearic Acid, Myristic Acid, Water, Sodium Hydroxide, Sodium Cocoyl Isethionate, Titanium Dioxide, Fragrance, Mica, Titanium Dioxide, Iron Oxide, Tin Oxide, Chromium Oxide Green, Ultramarine Blue. FROSTING: Sorbitol, Propylene Glycol, Glycerin, Water, Sodium Laureth Sulfate, Sodium Cocoyl Isethionate, Stearic Acid, Lauric Acid, Sodium Hydroxide, Myristyl Myristate, Sodium Chloride, Fragrance, Titanium Dioxide, Diazolidinyl Urea, Iodopropynyl Butylcarbamate, Glitter.