Pot - 8 Cup, Metal Stainless Steel
---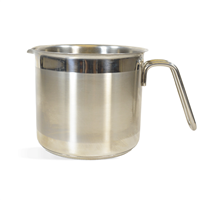 Additional Information
This 8 cup (1.9 L) pot made from stainless steel is a safe way to mix cold process soap batter. The sturdy handle and spout makes it easy to pour batter into molds safely. Also great for melting wax and hard butters on hot plates!

Why People Use This Product:
As a cup that can be used to mix soap making ingredients and pour directly in desired container/mold. Soap and Lotion Making tool.

Features:
Material: Stainless Steel
Color: Natural
Dimensions: 5" tall x 5.25" diameter
Capacity: 8 Cups



Country Of Origin:

China



Helpful Product Information:

| | | | |
| --- | --- | --- | --- |
| Height: 5" | | Length: 5.25" | |
Directions & Ingredients
International Nomenclature of Cosmetic Ingredients (INCI):
This product does not need to be listed on the product ingredient label.

Common Name Ingredient Listing (FDA Approved):
This product does not need to be listed on the product ingredient label.

Directions:
Fill with desired amount of product up to 8 cups (we recommend only filling up to 7 when Cold Process Soap Making to avoid the risk of dangerous spills). Mix product. Hold handle and pour from spout into mold/container.
Questions & Answers (5)
Question + Answer. Here you can ask or answer questions All questions are queued and answered quickly during business hrs. You can also answer questions posted by other customers if you have valuable information.
CustomerReviews (2)
Cynthia • Hawaii
Date Submitted: 05/26/2018
I Recommend This Product!
"Exceptional Little Pot "
COMMENTS: I must admit the price gave me pause, but I went ahead and bought this and I'm so glad I did. It is beautiful and very high quality ! I "save" it for my other products and don't use it for soap making. I love that you can melt oils with it and then pour directly from it. Very convenient. Cleans like a breeze. The best piece of equipment I own. Don't hesitate to buy this. I would love to see this offered in other sizes. Thanks WSP ! Love it !
PRODUCT USED IN: Lip Care, Lotion Bars & Sticks, Lotions, Creams & Butters, Massage Oils

THINGS I LIKE
THINGS I'D LIKE TO CHANGE
• Compact size.
• Very high quality stainless steel.
• Convenient pouring spout.

• Nothing except more sizes.


Amber • Florida
Date Submitted: 01/09/2018
I Recommend This Product!
"So excited!! "
COMMENTS: Never in my life have I been more excited to receive a pot, but this has everything I have been looking for!! I have been on the hunt for a good stainless steel pot I could make CP batches in, but everything fell short of my expectations... I felt like the Goldilocks of pots! Lol (ie: Too big, too small, flimsy handles, too expensive, etc, etc!). This one is juuust right! This is an incredibly well-made, sturdy pot of superior quality, and is going to save me sooo much time & cleanup!! Previously, I'd measure out & melt my oils & butters in a small crock pot, but because I didn't like the idea of adding lye to my crock pot, and since pouring directly from the crock pot to the mold was difficult anyway (due to the lip around the edge), I'd have to transfer everything to a separate container before adding my lye solution. This wonderful & handy pot makes that a thing of the past now & saves me from doing extra dishes (ALWAYS a plus!!). I do everything in this one pot now, and the time it saves me, plus ease of use is AWESOME! No more crock pot... Just one pot to rule them all! I'm loving how affordable this was, plus it's incredibly well-made/durable, and the handle (extremely durable as well), is perfectly positioned for ease of use! It's designed for pouring too, so once everything is blended to trace & ready to go, it tranfers beautifully & easily to my mold! I also love how the measurements are etched on the inside of the pot, so I can clearly see how much soap batter I have, which makes dividing batter up evenly to make different colors a breeze now! No more taking a Sharpie marker to the outside of my old plastic jug & "eyeballing" it! Lol! In SO MANY ways, this has definitely become one of the best investments I've made when it comes to soaping equipment! I am so incredibly happy with this product and its many many uses!! Thank you, thank you, thank you WSP!!!!
PRODUCT USED IN: Soap - Cold Process, Soap - CPOP

THINGS I LIKE
THINGS I'D LIKE TO CHANGE
• So many uses! Saves time & clean-up.
• Excellent quality & price!
• Awesome features & extremely durable!

• Not a thing! I'm SO HAPPY with this pot!