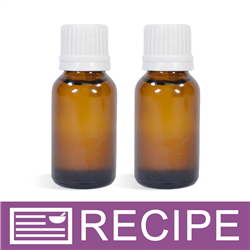 (Enlarge Image)
NOTE: If you are making these products for sale, good manufacturing practices recommend you wear a hairnet, gloves and a mask. We also recommend a clean apron, workspace and sanitized equipment.
In a measuring cup with a spout, pour in 8 ounces of Grape Seed Oil.
Using the droppers provided add essential oils to MCT. If your scale has a gram measure the amounts are as follows, Clove Bud-2.36, Lemon-2.07, Cinnamon-1.18, Eucalyptus-.9, and Rosemary- .6.
Stir to incorporate and pour into the .5 ounces into each bottle.
Label accordingly.
To Use: Apply to wrist or bottom of feet. You can also put 6-8 drops into a diffuser.
Ingredient Label:
Grape Seed Oil, Clove Essential Oil, Lemon Essential Oil, Cinnamon Essential Oil, Eucalyptus Essential Oil, Rosemary Essential Oil.