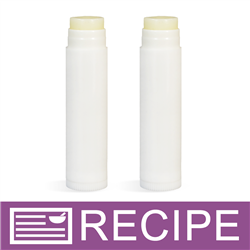 (Enlarge Image)
NOTE: If you are making these products for sale, good manufacturing practices recommend you wear a hairnet, gloves and a mask. We also recommend a clean apron, workspace and sanitized equipment.
Add 2 oz. Lip Balm Base for Sticks to beaker or microwave-safe container. Microwave in 30 second increments until the lip balm has completely melted.
Add 2 ml Hemp Flavor Oil and mix in well.
If desired, add 1 ml CBD Oil or Hemp Oil, if desired.
Allow lip balm to cool to 145°F.
Place 12 lip tubes into filling tray for ease in filling the tubes.
Fill tubes to the top and let harden. Save any leftover product. This can be remelted to fill in any sink holes.
Once hardened, remove from tray and add cap.
Label product accordingly.
To Use: Apply to lips as often as needed.
Ingredient Label:
Castor Oil, Olive Oil, Beeswax, Carnauba Wax, Soybean Oil, Candelilla Wax, CBD (if added), Flavor.