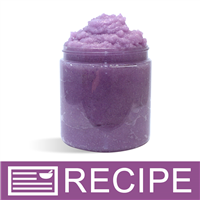 (Enlarge Image)
NOTE: If you are making these products for sale, good manufacturing practices recommend you wear a hairnet, gloves and a mask. We also recommend a clean apron and workspace.
To microwave-safe container or double boiler, measure out olive oil, sweet almond oil, mango butter, cocoa butter, emulsifying wax, and beeswax. Heat until everything is completely melted. Stir well.
Allow temperature to cool to 120ºF-125ºF and add preservative, Vitamin E, and the fragrances.
Add in color until desired shade is reached and mix well.
Place in the refrigerator to cool, the consistency should be a thick pudding before adding sugar.
Whip mixture with a hand mixer with whisk attachments or a Kitchen-Aid to loosen up the mixture.
Slowly add the sugar one cup at a time. Mix a minimum of 32 oz. of granulated sugar and a maximum of 64 oz. (Pictured product is with 64 oz.)
Fill jars with mixture and let sit overnight.
Label product accordingly.
To Use: Massage into wet skin. Rinse with warm water.
NOTE: These are great to make several smaller containers of different scents and colors for gift sets. Great for manicure and pedicure sets. Add a scoop and some raffia to make it a gift all by itself.
Ingredient Label:
Sugar, Olive Oil, Sweet Almond Oil, Cocoa Butter, Mango Butter, Emulsifying Wax, Beeswax, Phenoxyethanol, Caprylyl Glycol, Sorbic Acid, Vitamin E, Fragrance, Mica, Titanium Dioxide, Manganese Violet, Tin Oxide.