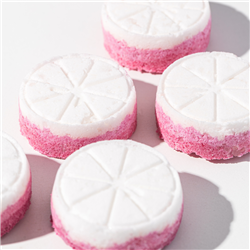 (Enlarge Image)
NOTE: If you are making these products for sale, good manufacturing practices recommend you wear a hairnet, gloves, and a mask. We also recommend a clean apron and workspace.
Into a medium mixing bowl, add baking soda, cornstarch, and dead sea salts. Whisk together.
Using a plastic dropper, add 5 drops of grapefruit extract and 5 drops of EO. Mix in well.
Add citric acid and mix well.
Add coconut oil and mix well.
Separate mixture into three separate bowls, measuring out 6 oz into each bowl.
Add 1/2 tsp plumberry pink mica to first bowl. Add 1/8 tsp plumberry pink mica to second bowl. Leave third bowl as is.
Into a microwave safe measuring cup, add 0.30 oz of MP soap. Heat in microwave for a few seconds until melted.
Add melted soap into one of the bowls and mix with gloved hands.
Repeat steps 7-8 with other two bowls.
Fill mold with layers of each color, or however desired. Pack mixture down well.
Allow scrubs to air dry for 24-48 hours.
Repeat steps 1-10 and continue until all (18) scrubs are made.
Package six cubes per bag and tie.
Label product accordingly.
To Use: Gently scrub on wet skin and rinse off.
Ingredient Label:
Baking Soda, Sea Salt, Citric Acid, Coconut Oil, Cornstarch, Sorbitol, Propylene Glycol, Sodium Laureth Sulfate, Stearic Acid, Lauric Acid, Water, Sodium Hydroxide, Glycerin, Pink Grapefruit Essential Oil, Polysorbate 20, Grapefruit Oil, Sodium Benzoate, Potassium Sorbate, Mica, Titanium Dioxide, Iron Oxide, Manganese Violet