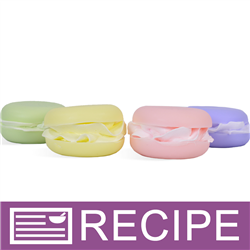 (Enlarge Image)
NOTE: If you are making these products for sale, good manufacturing practices recommend you wear a hairnet, gloves and a mask. We also recommend a clean apron and a covered work area.
To a funnel pitcher, add 6 oz. cut up white soap.
Heat in microwave until melted.
In a small bowl mix 4 mls of fragrance and 4 mls of vanilla color stabilizer, stir well and let sit for 2 minutes.
Add apple red liquid color and frgarance oil mixture to soap and stir well.
Add fragrance mixture to soap and stir.
Pour 1/2 ounce of soap into 12 mold cavities, then spritz with rubbing alcohol. Allow soap to harden and then remove soaps from mold. Set aside.
Wash mold and funnel pitcher for use with next color/fragrance.
Repeat steps 1-5 changing the color, violet purple, lemon yellow and forest green ( to soften green add a couple of drops of yellow).
To large microwave-safe mixing bowl, add 6 oz. cut up white soap base. Heat in microwave until melted. Add 10 ounces of Foaming Bath Whip and stir into melted soap to soften.
Using a hand mixer, whip ingredients until mixture starts to thicken.
In small glass bowl, add glycerin and myristyl myristate. Place in microwave and heat on low heat just until melted. Stir to blend.
In a small glass bowl used earlier for fragrance, mix 0.25 oz. fragrance oil with 0.25 oz. vanilla stabilizer. Let sit for 2 minutes.
Begin to whip product, then add glycerin mixture. Be sure to scrape sides of bowl with spatula.
Add fragrance mixture and whip on medium-high until frosting starts to thicken. Let mixture sit for 5-10 minutes and let cool. If necessary, place bowl in refrigerator to cool and thicken.
Divide the frosting into 4 bowls, one for each color. Add drops of color to each bowl and stir well to incorporate.
Place a decorating tip of choice into decorator bag or plastic food bag. Cut off tip of bag and push the decorator tip through so it is sticking out of the bag. Fill with soap frosting.
Pipe frosting to one side of the macaroon and place other half on top.
Package in groups of 4 in cello bags or window boxes ( Not Included).
Label product accordingly.
Ingredient Label:
Sorbitol, Propylene Glycol, Sodium Laureth Sulfate, Stearic Acid, Myristic Acid, Water, Sodium Hydroxide, Sodium Cocoyl Isethionate, Titanium Dioxide, fragrance, Water, Propylene Glycol, Tetrasodium Methylparaben, Propylparaben, Green 5, Yellow 5, Red 40, Ext Violet 2.