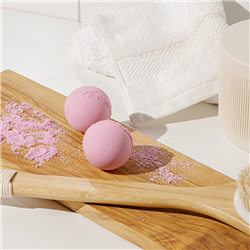 (Enlarge Image)
NOTE: If you are making these products for sale, good manufacturing practices recommend you wear a hairnet, gloves and a mask. We also recommend a clean apron.
To large bowl, add baking soda, citric acid, pink sea salt, and color. Mix well with gloved hands.
Drizzle fragrance & hemp seed oil (or CBD) onto powders and mix thoroughly.
Slowly drizzle 0.05 oz. Shea 50 onto the mixture and mix quickly. (TIPS: It is important that the Shea 50 is spread throughout the mixture. If too much Shea 50 is poured at once it will result in the mixture prematurely activating. Also, if you live in a humid climate you may need to mix and pour at the same time to avoid a crumbly mixture.)
Check the consistency of your mixture by squeezing it with your hand. If the mixture holds together well, then you are ready to mold. If the mixture crumbles or doesn't hold together, slowly add more Shea 50 until you reach the right consistency. (TIPS: The right consistency looks like loose powder when sitting in the bowl, but will form nicely when squeezed. The squeezed mixture should be able to handle a gentle poke without crumbling.)
Place mixture into both sides of mold. Add enough so the tops are mounded over. With one mold in each hand, push them together. Place on bubble wrap or an egg carton to dry.
Let bath fizzies set overnight to harden.
Package as desired and label product accordingly.
To Use: Drop into warm bath water.
Ingredient Label:
Baking Soda, Citric Acid, Himalayan Sea Salt , PEG-50 Shea Butter, Hemp Seed Oil (Or CBD Oil), Fragrance, Mica, Titanium Dioxide, Tin Oxide, Iron Oxide.