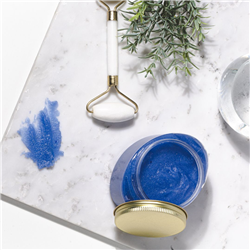 (Enlarge Image)
NOTE: If you are making these products for sale, good manufacturing practices recommend you wear a hairnet, gloves and a mask. We also recommend a clean apron, workspace and sanitized equipment.
To a large bowl, add Evening Primrose, Macadamia Nut Oil, Safflower Oil, Avocado Oil and Hemp Seed Oil.
To a separate small bowl, add shea butter. Place bowl in microwave and heat at 50% powder in 30 second bursts until melted. Add to oils and stir.
To the large bowl, add Glycerin, Poly 20 and Aloe Vera Gel and gently stir.
To a small container, mix fragrance oil with 2 scoops of Ultramarine Blue Pigment Powder. Stir until blended.
Mix into larger bowl along with Vitamin E and Preservative.
Weigh out Sugar into a bowl breaking up any larger pieces. If necessary, the sugar can be put through a sifter to break up any clumps.
Slowly add sugar into larger mixture and stir until well incorporated.
Sprinkle Xanthan Gum over scrub and stir well.
Fill jars to approximately 10.5 ounces each and apply lid. The scrub will thicken after sitting for an hour or two.
Label product accordingly.
To Use: Apply to wet skin and massage. Rinse with warm water.
Ingredient Label:
Sugar, Glycerin, Polysorbate 20, Water, Carbomer, Triisopropanolamine, Aloe Vera Juice, Iodopropynyl Butylcarbamate, Diazolidinyl Urea, Shea Butter, Evening Primrose Oil, Macadamia Nut Oil, Safflower Oil, Avocado Oil, Hemp Seed Oil, Fragrance, Xantham Gum, Vitamin E, Phenoxyethanol, Caprylyl Glycol, Sorbic Acid, Ultramarines.