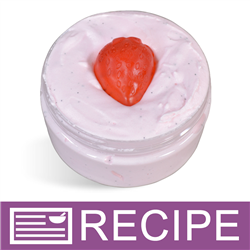 (Enlarge Image)
NOTE: If you are making these products for sale, good manufacturing practices recommend you wear a hairnet, gloves and a mask. We also recommend a clean apron and workspace.
Add 10 ounces of cut-up Extra Clear Soap to measuring cup. Heat soap in microwave in 30 second intervals until fully melted.
Pour soap into stand mixer bowl. Add Glycerin and mix with stand mixer on low.
Stop mixer and add Foaming Bath Whip. mix on low.
Turn speed to high for 1-2 minutes. (Mixture will become creamy and look like marshmallow cream.)
Turn speed to low-medium and slowly add white sugar and 1-2 teaspoons of black jojoba beads.
Add liquid color and fragrance oil. When fully blended, stop mixer.
Fill each jar to 7.50 oz. by weight and apply lids.
Melt 4.5 ounces of clear soap in a microwave safe container. Add 3 mls of fragrance and 1 drop of ez color.
Pour into 8 cavities of the strawberry mold. Let sit until solid.
Place on the top of the scrub and cap.
Label product accordingly.
To Use
: Massage gently onto wet skin. Rinse off with warm water.
Ingredient Label:
Sugar, Propylene Glycol, Glycerin, Water, Sodium Laureth Sulfate, Sodium Cocoyl Isethionate, Stearic Acid, Lauric Acid, Sodium Hydroxide, Sodium Chloride, Fragrance, Titanium Dioxide, Diazolidinyl Urea, Iodopropynyl Butylcarbamate, Red 33, Red 40.