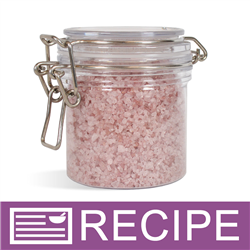 (Enlarge Image)
Ensure your workspace is clean and organized. Read through instructions
before
starting. Premeasure all ingredients.
Add 28 oz European Spa Salts and 2.25 oz Baking Soda to a large bowl. Mix well.
In a small bowl, combine 0.35 oz Polysorbate 80 and 0.35 oz Pink Champagne Fragrance Oil. Mix well.
Pour Fragrance/Polysorbate 80 mixture over salt mixture. Mix well.
Divide the salt mixture between two bowls.
To one bowl, add 0.4 oz Hazelnut Oil and mix well.
Add 1/2 tsp Rose Petal Powder and mix well.
To the second bowl, add 5 microscoops French Silk Stockings Mica Powder and mix well.
Combine both bowls and mix well.
Add 5 microscoops Super Sparkle Light Gold Mica Powder and mix well.
Spread salts on a cookie sheet to dry overnight.
Scoop salt mixture into jars.
Label and enjoy!
Ingredient Label:
Sea Salt, Sodium Bicarbonate, Corylus americana (Hazel) Seed Oil, Polysorbate 80, Fragrance, Rosa Damascena Powder, Mica, Titanium Dioxide, Iron Oxide, Fluorphlogopite, Tin Oxide