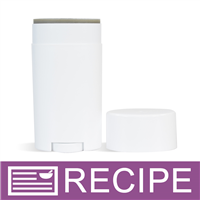 (Enlarge Image)
NOTE: If you are making these products for sale, good manufacturing practices recommend you wear a hairnet, gloves and a mask. We also recommend a clean apron and workspace.
To large microwave-safe measuring cup, add coconut oil and shea butter. Place in microwave in 1 minute increments and stir until melted.
While oils are melting, weigh arrowroot powder and bentonite clay and place in mixing bowl. Set aside.
To melted oils, slowly add the powders and whisk until no clumps remain.
Add Vitamin E and stir into mixture.
Place empty deodorant tube on scale and tare to zero. Fill each tube to 3.15 oz.
Allow to cool and harden completely before placing cap on.
Label product accordingly.
NOTE: Some popular essential oils that could be added are lemongrass, lavender and tea tree. This is a soft, almost paste-like, consistency. Keep away from heat, could also be packaged in jars if desired.
To Use: Apply to underarm area daily.
Ingredient Label:
Shea Butter, Coconut Oil, Arrowroot Powder, Bentonite Clay, Vitamin E.