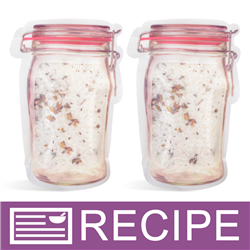 (Enlarge Image)
NOTE: If you are making these products for sale, good manufacturing practices recommend you wear a hairnet, gloves and a mask. We also recommend a clean apron, workspace and sanitized equipment.
To a very large mixing bowl, add Dead Sea Salts.
To a smaller mixing bowl, mix dendritic salt with fragrance oil. Mix together well and add to larger bowl. Mix well.
Stir in rose petals.
Fill each bail jar pouch with approximately 10 ounces of salt mixture. If any salts are left over, divide evenly among the bags.
Label product accordingly.
To Use: Add desired amount to bath water. If desired, place a filter over tub drain to catch the rose petals before going down the drain.
Ingredient Label:
Sea Salt, Sodium Chloride, Rose Petals, Fragrance.