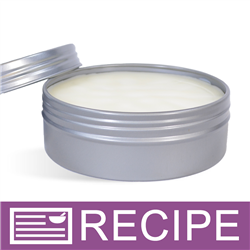 (Enlarge Image)
NOTE: If you are making these products for sale, good manufacturing practices recommend you wear a hairnet, gloves and a mask. We also recommend a clean apron and workspace.
Weigh 8 oz. of beeswax and 8 oz. of Palm Kernel Flakes, place in a metal pot for melting. Place on top of stove or hot plate on low heat until completely melted.
Once wax has completely melted, remove from heat.
When temperature has cooled down to around 150°F, add fragrance oil and stir.
Place a tin on a scale and tare to zero. Pour 3 oz. wax into each tin. Set aside to completely cool.
Place lids on tins when completely hardened and label accordingly.
TO USE: Place tin on an electric candle or coffee warmer. Wax may take about 1 hour to completely melt. Best when used in a smaller room or enclosed area. Remove lid and let sit out in car, bath, etc. to fragrance without melting.
Ingredient Label:
Beeswax, Palm Kernel Oil, Fragrance.