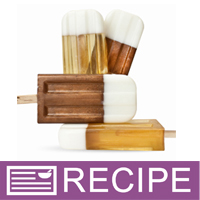 (Enlarge Image)
NOTE: If you are making these products for sale, good manufacturing practices recommend you wear a hairnet, gloves and a mask. We also recommend a clean apron and workspace.
Place the Soap Pop Mold on a cookie sheet to give mold stability if it needs to be moved.
To Mix & Pour Funnel Pitcher add 6 oz. of cut up Three Butter Soap. Heat in microwave until soap has melted.
Carefully pour about 1 oz. of soap into each soap pop cavity. NOTE: It is very important to pour directly into the middle of soap cavity. If the soap gets on the sides of the mold, you will have white streaks on the side of the soap pop.
Spritz the inside of the cavities with alcohol to dissolve any surface bubbles. Let soap harden.
Into 2 glass measuring cups add 10 oz. of cut up honey soap to each.
Into 2 plastic beakers, add 8.5 ml of fragrance to each. Set aside.
Melt soap from one of the cups. Add one beaker of fragrance and stir well.
Spritz the soap in 3 of the soap cavities with alcohol. Check the temperature of the melted soap to be sure it is no hotter than 125°F.
Stir the soap in the cup to create bubbles (as you would see in beer). Then carefully pour the soap into the 3 cavities filling to the top. Spritz the tops with alcohol.
Melt the remaining soap in the microwave. Add the other beaker of fragrance mixture and stir well.
Add two 0.15 ml scoops of the Brown Sparkle Mica Powder. Stir well.
Spritz the remaining cavities in the mold again with alcohol. Once the soap is at or below 125°F, pour into the last 3 cavities filling right to the top. Spritz, again, with alcohol.
Place the soap pop cover over the soap mold positioning so the slats in the top cover each soap cavity.Carefully place a stick down into each cavity keeping it as straight as possible.
Allow soaps to completely set up and harden.
Remove from mold by gently pulling the sides away from the soap and pushing from the bottom to ease soap out of mold. Be sure not to pull on the stick.
Wrap soaps in plastic wrap.
Label product accordingly. Be sure to add to label "DO NOT EAT. REMOVE STICK BEFORE USING".
To Use: Lather onto wet skin and rinse off with warm water.
Ingredient Label:
Sorbitol, Propylene Glycol, Sodium Laureth Sulfate, Stearic Acid, Water, Sodium Hydroxide, Myristic Acid, Lauric Acid, Shea Butter, Coca Butter, Mango Butter, Honey, Titanium Dioxide, Fragrance, Mica, Iron Oxide.