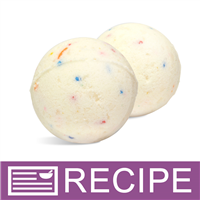 (Enlarge Image)
NOTE:
If you are making these products for sale, good manufacturing practices recommend you wear a hairnet, gloves and a mask. We also recommend a clean apron and workspace.
In a large mixing bowl, add citric acid, baking soda, epsom salts and yogurt powder. Use a wire whisk to combine the ingredients.
In a small bowl, add shea butter and microwave until it has melted.
In a plastic beaker, add confetti cake fragrance oil and vanilla color stabilizer for CP soap. Mix together and set aside.
To shea butter, add apricot kernel oil and fragrance oil mixture and mix well.
Drizzle oils over powders. Use the whisk to combine all the ingredients then use gloved hands to finish mixing so all ingredients are well incorporated.
Add sprinkles to bath fizzy mixture and gently mix into powders.
Once the mixture has been thoroughly blended, take some of the mixture and squeeze in the palm of your hand. If the mixture sticks together, it is ready to be molded. If the mixture is too dry and crumbly, spritz with rubbing alcohol until mixture sticks together.
Place mixture into both sides of mold. Add enough so the tops are mounded over. With one mold in each hand, push them together. Place on bubble wrap or an egg carton to dry.
Continue until all 14 bath bombs have been made.
Let fizzies harden and dry for 24-48 hours.
Once hard, remove from molds.
Place two bath bombs in each cello bag and tie with ribbon.
Label product accordingly.
To Use:
Drop into warm bath water. Soak in tub.
Ingredient Label:
Sodium Bicarbonate, Citric Acid, Magnesium Sulfate, Apricot Kernel Oil, Shea Butter, Yogurt Powder, Fragrance, Sugar, Corn Starch, Hydrogenated Palm Kernel Oil, Dextrin, Carnauba Wax, Soy Lecithin, FD&C Yellow #5, FD&C Yellow #6, FD&C Red #3, FD&C Red #40, FD&C Blue #1.