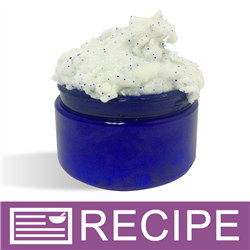 (Enlarge Image)
NOTE: If you are making these products for sale, good manufacturing practices recommend you wear a hairnet, gloves and a mask. We also recommend a clean apron and workspace.
To metal pot, add wax, stearic acid and butters. Melt over low heat on stove top or double boiler until completely melted.
Remove from heat and add menthol crystals. They will dissolve in warm liquid. Stir to incorporate into mixture.
Add sweet almond, apricot kernel and grape seed oils and blend.
Pour oils into melted wax. Using hand mixer or stick blender, mix until product thickens. Let mixture cool completely.
Begin to mix while slowly adding sugar. Continue until all sugar has been added.
Add preservative and desired amount of jojoba beads* starting with one tablespoon.
Mix for about 5 minutes more until scrub is thick and fluffy.
Fill each jar to 4 oz. by weight and apply lid.
Label product accordingly.
To Use: Massage onto wet skin paying special attention to heels and other dry areas. Rinse and pat dry.
* Original recipe contained blue Jojoba Beads which were discontinued, These have been replaced with Black Jojoba Beads. (6/2020)
Ingredient Label:
Sugar, Emulsifying Wax, Cocoa Butter, Stearic Acid, Sweet Almond Oil, Grape Seed Oil, Apricot Kernel Oil, Menthol, Shea Butter, Phenoxyethanol, Caprylyl Glycol, Sorbic Acid, Jojoba Wax, Iron Oxides.