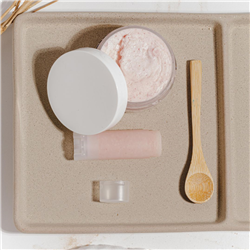 (Enlarge Image)
NOTE: If you are making these products for sale, good manufacturing practices recommend you wear a hairnet, gloves and a mask. We also recommend a clean apron and workspace.
FOR LIP SCRUB: Place 1.50 oz. Cranberry Butter in a plastic beaker and heat in microwave just until melted.
Add 2 oz. Sugar and mix well with a spoon.
Add 0.10 oz. Vitamin E.
Let product cool and thicken before pouring into tubes so sugar does not settle to bottom.
Pour product into each tube stirring between pours to keep sugar suspended.
Let cool completely and place caps on tubes.
To Use
: Gently rub scrub over lips to help remove dead skin. Rinse off with warm water and follow with a moisturizing lip balm
FOR BODY BUTTER: Add 16.50 oz. Cranberry Butter to mixing bowl.
Using a hand mixer, whip product until smooth and creamy.
Add Fragrance Oil, Slick Fix - Oil Locking Powder(Tapioca Starch) and 0.20 oz. Vitamin E and mix into butter. Continue to whip until light and fluffy.
Fill each jar to 1.40 oz by weight. Let cool and then cap.
Label both products accordingly.
To Use:
Rub body butter into skin wherever extra moisturizing is needed.
Ingredient Label:
SCRUB: Sugar, Cranberry Butter, Vitamin E. BODY BUTTER: Cranberry Butter, Fragrance, Tapioca Starch, Vitamin E.