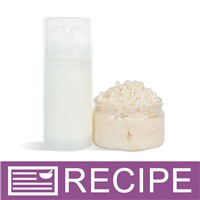 (Enlarge Image)
NOTE: If you are making these products for sale, good manufacturing practices recommend you wear a hairnet, gloves and a mask. We also recommend a clean apron and workspace.
FACIAL EXFOLIATING SCRUB
:
To microwave-safe measuring cup, add cut up Shea Butter Soap Base. Heat in microwave until soap has completely melted.
Add Coconut Oil. (If solid in bottle, place in hot water to liquify.) Stir oil into melted soap.
Place in refrigerator to cool and slightly solidify.
Briefly grind the sea salts in a food processor or coffee grinder. Set aside.
Remove bowl from refrigerator and gently stir mixture. With a hand mixer, mix soap/oil mixture together to create a smooth base for the salts/sugars. This should also thicken up the mixture.
Add salts and sugar. Mix well with large spoon or spatula to incorporate. The mixture will be very thick.
Mix in safflower oil, 0.20 oz. of Vitamin E and 0.25 oz. of fragrance oil. Stir well until all ingredients are blended.
Fill each jar to 5 oz. by weight and place lid on jars.
Label product accordingly.
To Use:
Apply scrub to wet skin and gently scrub in circular motion. Rinse and pat dry.
FACIAL MOISTURIZER:
To microwave-safe measuring cup, add cupuacu butter, jojoba oil and emulsifying wax. Heat in microwave until wax has completely melted.
To a separate bowl, add distilled water and Vanilla Hydrosol. Stir.
Pour water into warmed oils and wax.
Blend with stick blender until mixture starts to thicken. If necessary, place bowl into refrigerator for about 30 minutes to thicken up product.
Stick blend again for about 1 minute and then add Silk Amino Acids, 0.50 oz. Vitamin E, 0.25 oz. fragrance and 5 ml preservative. Blend again for 1-2 minutes until mixture is smooth and creamy.
Fill each bottle to 3.25 oz. by weight. When product has cooled, apply pump tops.
Label product accordingly.
To Use:
Gently rub into face and neck area after using facial scrub. Lotion is light enough to also wear under makeup.
To Package:
Place one facial exfoliating scrub and one facial moisturizer into organza bag.
Ingredient Label:
SCRUB: Coconut Oil, Sorbitol, Himalayan Sea Salt, Sugar, Propylene Glycol, Safflower Oil, Stearic Acid, Water, Sodium Hydroxide, Glycerin, Shea Butter, Titanium Dioxide, Vitamin E, Fragrance. FACE CREAM: Water, Cupacua Butter, Vanilla Bean Water, Emulsifying Wax, Jojoba Oil, Vitamin E, Silk Amino Acids, Fragrance, Phenoxyethanol, Caprylyl Glycol, Sorbic Acid.