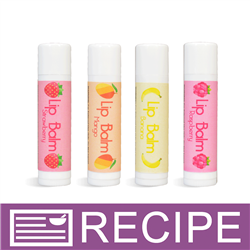 (Enlarge Image)
NOTE: If you are making these products for sale, good manufacturing practices recommend you wear a hairnet, gloves and a mask. We also recommend a clean apron and workspace.
To measuring cup, add avocado oil, sunflower oil, beeswax, castor oil, jojoba oil, evening primrose and vitamin E.
Heat in microwave in thirty second bursts until melted. Add murumuru butter and allow hot oils to melt butter. Mix well.
To first beaker, add mango flavor oil and orange color. To second beaker, add strawberry flavor oil and pink color. To third beaker, add banana flavor oil and yellow color. To fourth beaker, add raspberry flavor oil and red color.
Pour 2 oz. of lip balm mixture into each beaker. Mix well with separate spatulas.
Push lip tubes into lip tube filling tray.
Fill twelve lip tubes with each flavor.
Allow lip balm to cool. Remove from tray and cap.
Place lip balm tubes into boxes placing one of each flavor into each box.
Label accordingly.
To Use:
Apply onto lips as often as needed.
Ingredient Label:
Avocado Oil, Sunflower Oil, Beeswax, Murumuru Butter, Castor Oil, Evening Primrose Oil, Vitamin E, Flavor, [Insert Additional Ingredients Here] Mango: Mica, Titanium Dioxide, Iron Oxide. Strawberry: Mica, Titanium Dioxide, Iron Oxide, Manganese Violet. Banana: Mica, Titanium Dioxide, Iron Oxide. Raspberry: Mica, Titanium Dioxide, Iron Oxide.