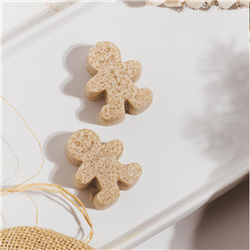 (Enlarge Image)
NOTE: If you are making these products for sale, good manufacturing practices recommend you wear a hairnet, gloves and a mask. We also recommend a clean apron and workspace.
This recipe is repeated three times to make all 36 sugar scrubs.
Weigh 3.85 oz. of Three Butter Soap and cut into chunks. Place these into a large microwave-safe measuring cup or bowl and heat in microwave until melted.
Add 1.25 oz. Foaming Bath Whip and stir into melted soap until bath whip has melted in.
Stir in 5.15 oz. brown sugar and gently stir with spatula to blend.
In plastic beaker, mix 0.20 oz. avocado oil, 0.05 oz. Vitamin E and 0.15 oz. fragrance oil.
Slowly stir into sugar mixture until blended.
Let mixture thicken slightly to better suspend sugar. Pour into each cavity almost to the top. If product thickens up so it cannot be poured, heat briefly in microwave for a few seconds to become more fluid.
Divide any remaining scrub between the mold cavities. Place in refrigerator to harden more quickly and also prevent sugar from settling to the bottom. Once set up, remove from mold and set aside.
Repeat twice to make remaining 24 scrubs.
Package as desired or place 4 scrubs in a cello bag and tie with holiday colored ribbon.
Label product accordingly.
To Use: Lather soap and gently massage onto wet skin.
Ingredient Label:
Sugar, Sorbitol, Coconut Oil, Sodium Cocoyl Isethionate, Propylene Glycol, Stearic Acid, Water, Disodium Lauryl Sulfosuccinate, Sodium Hydroxide, Glycerin, Shea Butter, Mango Butter, Cocoa Butter, Titanium Dioxide, Avocado Oil, Sodium Chloride, Vitamin E, Diazolidinyl Urea, Iodopropynyl Butylcarbamate.