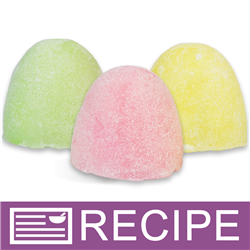 (Enlarge Image)
NOTE: If you are making these products for sale, good manufacturing practices recommend you wear a hairnet, gloves and a mask. We also recommend a clean apron and workspace.
Place cake pop mold on a cookie sheet.
To a microwave-safe mixing bowl, add 2 oz. Shea Butter. Heat on half power until melted.
To smaller microwave-safe measuring cup, add 1.5 oz. of clear soap base and heat in the microwave until fully melted.
Add soap to melted shea butter and gently stir.
Add 0.50 oz. Sweet Almond Oil and 0.25 oz. Candy Crush Fragrance Oil to mixture and blend in.
To separate mixing bowl, add 0.5 lb.(8 oz.) of Granulated Sugar. Break up any clumps with gloved hands or pestle and mortar.
Slowly add sugar to butter/soap mixture, stirring well after each addition.
Add a few drops of first color and blend well with spatula or gloved hands. Add more color until desired shade is reached.
Press the mixture into the Cake Pop Silicone Mold, filling each cavity about 3/4 full. Try to add an even amount to each cavity and smooth the top. Place mold in the freezer and allow to completely set up (about 2 hours).
Remove scrubs from mold.
To a small bowl, add 1/4 cup of sugar. Roll the gum drops in the sugar until top and sides are coated. Set aside on cookie sheet or wax paper.
Repeat steps 2-9 to make second and third colors.
To package, place one of each color into a poly bag. Tie with ribbons.
Label product accordingly.
To Use: Use whole gum drop to scrub body in bath or shower or break into smaller pieces. Keep any used pieces in a soap dish to dry.
Ingredient Label:
Sugar, Shea Butter, Sorbitol, Propylene Glycol, Sodium Laureth Sulfate, Stearic Acid, Myristic Acid, Water, Sodium Hydroxide, Sodium Cocoyl Isethionate, Sweet Almond Oil, Fragrance, Red 33, Red 40, Green 5, Yellow 5.