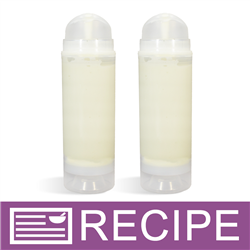 (Enlarge Image)
NOTE: If you are making these products for sale, good manufacturing practices recommend you wear a hairnet, gloves and a mask. We also recommend a clean apron, workspace and sanitized equipment.
To a microwave-safe measuring cup, add MCT Oil, Hemp Oil, Emulsifying Wax and Stearic Acid. Heat in microwave until completely melted, about 195-200 degrees.
Add water to a second microwave-safe measuring cup. Heat in microwave for about 4 minutes or until water reaches between 175-200 degrees.
Slowly pour water into oil/wax mixture and begin to blend. We prefer to use a stick blender but you can also use a hand mixer. Blend until lotion slightly thickens.
Add Hemp Extract and Glycerin and continue to blend. It can take a while until lotion thickens. You can let the mixture sit for 30 minutes to cool until about 100 degrees.
Stir with spatula, then add Vitamin E, Preservative, Fragrance and CBD Oil*, if desired (see note). Stick blend or mix lotion until ingredients are well blended in.
Fill airless pump bottles to approximately 4.6 oz. or evenly divided. Let lotion cool completely before adding pump top.
Label product accordingly.
*Note: Lotion can be made ahead without CBD and stored in airtight container. If filling bottles to order, pour desired amount into sterilized container, then add desired amount of CBD Oil. Up to 2% additional oil can be added. We have included a link to our Percentage Conversion Chart to help with determing the amount to add for the amount of lotion being made: https://www.wholesalesuppliesplus.com/PDFS/ConversionChart.pdf
Ingredient Label:
Water, Medium Chain Triglycerides, Hemp Oil, Emulsifying Wax, Glycerin, (CBD @ 2%), Hemp Extract, Stearic Acid, Vitamin E, (CBD @ 1%), Fragrance, Phenoxyethanol, Caprylyl Glycol, Sorbic Acid.