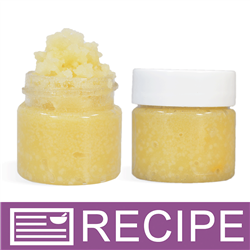 (Enlarge Image)
NOTE: If you are making these products for sale, good manufacturing practices recommend you wear a hairnet and gloves. We also recommend a clean apron and workspace.
To microwave-safe measuring cup, add cocoa butter, jojoba oil and MCT oil. Heat in microwave in 30 second bursts until melted.
To melted butter and oil mixture, add honey powder, vitamin E and flavor oil and mix well.
Measure and stir in shimmer light gold color.
Slowly add in sugar. Mix until completely incorporated with oil.
Fill each jar to 0.80 oz. by weight.
To Use:
Gently rub over lips to help remove dead skin. Rinse off with warm water. Follow with a moisturizing lip balm.
Ingredient Label:
Sugar, Jojoba Oil, Medium Chain Triglycerides, Jojoba Oil, Cocoa Butter, Flavor Fragrance, Vitamin E, Honey, Maltodextrin, Fluorphlogopite, Titanium Dioxide, Iron Oxide.