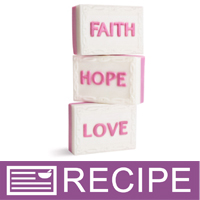 (Enlarge Image)
NOTE: If you are making these products for sale, good manufacturing practices recommend you wear a hairnet, gloves and a mask. We also recommend a clean apron and workspace.
To plastic beaker, add 2 oz. of Detergent Free Baby Buttermilk MP Soap and 0.10 oz. of Sexy Pink Slippers Mica Color bar. Heat in microwave until soap and color have melted. Stir well.
Place plastic mold on cookie sheet and spritz the inside of each cavity with rubbing alcohol.
Using a plastic dropper, quickly fill in the letters in each cavity of the plastic mold. If soap starts to harden, place in microwave for a few seconds to remelt.
Spritz letters with rubbing alcohol as soon as each letter is done. This will pop any surface bubbles that may appear.
To keep the soap from hardening in the plastic dropper, place in hot water when not in use. Squeeze out excess soap, then fill dropper with warm water. Be sure to remove any excess water before using again.
To microwave-safe measuring cup, add 12 oz. of cut up soap. Heat in microwave until melted. Remove and stir to be sure soap has completely melted.
If scenting soap, add 0.75 oz. fragrance to soap at this time.
Spritz pink lettering in mold generously with rubbing alcohol. Once melted soap has cooled to 125°F, pour white soap over pink letters. Soap should fill the mold halfway. Spritz soap to release any surface bubbles and allow soap to set up. Soap can be place in refrigerator to help speed up this process.
To microwave-safe measuring cup, add 12 oz. of cut up soap along with 0.20 oz. Pink Slippers soap color bar. Heat in microwave until both have completely melted. Stir to blend.
Once soap temperature has cooled down to 125°F, spritz soap in mold generously with rubbing alcohol.
Pour pink soap over the white until it reaches the top of the mold. Spritz again with alcohol and let harden.
Remove soap from mold and cut into individual bars. Package soap as desired.
Label product accordingly.
To Use: Lather onto wet skin and rinse off with warm water.
Ingredient Label:
Sorbitol, Coconut Oil, Propylene Glycol, Stearic Acid, Water, Sodium Hydroxide, Glycerin, Honey, Buttermilk, Oatmeal, Calendula Extract, Titanium Dioxide, Mica, Iron Oxide, Silica.