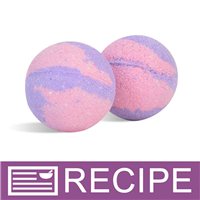 (Enlarge Image)
NOTE:
If you are making these products for sale, good manufacturing practices recommend you wear a hairnet, gloves and a mask. We also recommend a clean apron and workspace.
To large mixing bowl, add baking soda, citric acid and yogurt powder. Break up any clumps with gloved hands.
Drizzle polysorbate 80 and fragrance oil over powder mixture and mix well with gloved hands.
Divide powder mixture into two separate bowls. Add purple mica powder to one bowl and pink mica powder to other bowl. Mix each with wire whisk to incorporate color.
Spritz one bowl with rubbing alcohol while hand mixing. Continue until the mixture holds together in the palm of your hand. Repeat with the other bowl until the mixture holds together.
Take one half of bath bomb mold and add one teaspoon of colored mixture, going back and forth between colors. Fill to the top and slightly mound over.
Fill the other side of the mold in this same manner, mixing colors until the top of mold is reached and mounded over.
Press mold halves firmly together. Remove one half of mold and gently brush away any excess mixture that has accumulated around the sides. This excess can be added to a third bowl to be used later.
Set mold aside on bubble wrap to harden.
Repeat until all the mixture has been used. Use the excess mixture from the third bowl to fill the last bath bomb mold.
Let these set overnight to dry and harden.
Remove bath fizzies from molds and clean molds. If desired, place the bath fizzies back into clean molds and package in a cello bag. Or, simply place bath fizzy in bag. Keeping in mold, though, will help protect it until used. Add color coordinating ribbon and curl with scissors.
Label accordingly.
To Use:
Drop in warm bath. Soak in warm water.
*7/2020-Star Jasmine & Vanilla Fragrance substituted for Sweet Coralline which was discontinued.
Ingredient Label:
Baking Soda, Citric Acid, Polysorbate 80, Fragrance, Yogurt Powder, Mica, Titanium Dioxide, Tin Oxide, Iron Oxide.