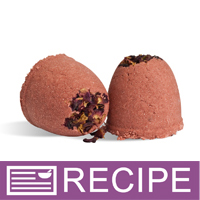 (Enlarge Image)
NOTE: If you are making these products for sale, good manufacturing practices recommend you wear a hairnet, gloves and a mask. We also recommend a clean apron and workspace.
In a large mixing bowl, blend 8 oz. baking soda, 4 oz. citric acid and 1 oz. kaolin clay. Break up any clumps with a spoon or gloved hands.
To plastic beaker, add 0.50 oz. Shea 50, 5 ml fragrance oil and 0.10 oz. isopropyl alcohol.
Drizzle liquid into dry mixture, being sure not to pour all in one spot.
Quickly, blend ingredients with spatula or gloved hands until well mixed in.
Place Cake Pop Silicone Mold on jelly roll pan.
Sprinkle about 1/8 teaspoon of rose petals into bottom of each cavity.
Fill each cavity about half way with bath fizzy mixture. Gently press down on rose petals. Then fill cavities to the top pressing firmly as mixture is added.
Let bath fizzies set up for at least 2 hours. If bath fizzies stick to inside of mold, let set for another 1/2 hour and then unmold.
Place bath fizzies on a cookie sheet for 12-24 hours to completely harden.
Repeat above steps to make another set of 8 bath fizzies. If mixture feels dry, spritz with alcohol until mixture sticks together when pressed in palm of hand.
When all 24 have been made, place two bath fizzies in an organza bag and sprinkle additional rose petals inside the bag. Pull drawstrings to close.
Add hang tag label, if desired.
To Use: Dissolve in warm bath water.
Ingredient Label:
Baking Soda, Citric Acid, Kaolin, PEG-50 Shea Butter, Isopropyl Alcohol, Rose Petals, Lavandin Essential Oil.