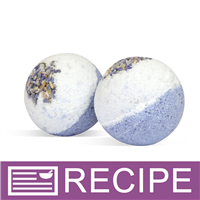 (Enlarge Image)
NOTE:
If you are making these products for sale, good manufacturing practices recommend you wear a hairnet, glove and a mask. We also recommend a clean apron and workspace.
To large bowl, add citric acid, baking soda, Epsom salt and coconut milk powder. Use a wire whisk to combine the ingredients.
To small bowl, add Shea butter and microwave until melted.
Add apricot kernel oil and fragrance to melted butter and mix.
Drizzle oils and butter into dry ingredients and use whisk to combine.
Move 15 oz. of mixture into second bowl.
To one bowl, add purple powder and whisk until evenly colored.
Spritz powders with rubbing alcohol until mixture sticks together when squeezed.
To one-half of bath bomb mold, sprinkle 1/4 tsp. of lavender buds. Gently fill mold with white mixture mounding mixture.Fill other half of mold with purple mixture.
Press both mold halves together. Remove the top and gently brush away excess powder. Replace top and place on bubble wrap. Continue until all fizzies are molded.
Let harden overnight.
Remove fizzies from mold and package as desired.
Label accordingly.
To Use:
Drop into basin of warm water and soak feet.
Ingredient Label:
Baking Soda, Citric Acid, Magnesium Sulfate, Lavender Flower, Apricot Kernel Oil, Shea Butter, Fragrance, Coconut Milk, Fluorphlogopite, Titanium Dioxide, Tin Dioxide, Manganese Violet.