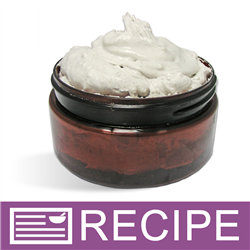 (Enlarge Image)
NOTE: If you are making these products for sale, good manufacturing practices recommend you wear a hairnet, gloves and a mask. We also recommend a clean apron and workspace.
To microwave-safe mixing bowl, add cut up clear soap. Heat in microwave until completely melted.
Add liquid glycerin and Foaming Bath Whip. Gently stir into soap.
Using a hand mixer with regular beaters, start to whip mixture on low, then on medium speed.
When mixture begins to thicken, slowly add Aloe Vera Oil, fragrance oil and preservative. Mix, again, until ingredients are incorporated.
Gently fold pumice powder into mixture with a spoon or spatula, adding a little at a time until powder is blended in. Then, finish blending with mixer to be sure all powder is incorporated.
Spoon scrub into jars dividing product evenly among all 7 jars. Apply lids.
Label product accordingly.
To Use: Lather onto wet hands and scrub. Rinse off with warm water.
Ingredient Label:
Pumice, Sorbitol, Propylene Glycol, Glycerin, Water, Sodium Laureth Sulfate, Sodium Cocoyl Isethionate, Stearic Acid, Lauric Acid, Sodium Hydroxide, Palm Kernel Oil, Sodium Chloride, Aloe Vera Oil, Fragrance, Diazolidinyl Urea, Iodopropynyl Butylcarbamate.