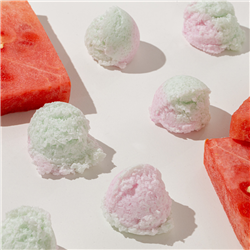 (Enlarge Image)
NOTE: If you are making these products for sale, good manufacturing practices recommend you wear a hairnet, gloves and a mask. We also recommend a clean apron and workspace.
Add 8 oz. of cut up soap to a microwave-safe bowl and heat for 60 seconds.
Add 8 oz. of Foaming Bath Whip to melted soap. Place in microwave for additional 20 seconds. Stir until completely melted and smooth.
Weigh 16 oz. of European Salts and pour into soap mixture. Blend with large mixing spoon.
Add 3-4 drops of first color and 1 oz. of Watermelon Waves fragrance. Mix well and set aside.
In second mixing bowl, place remaining 8 oz. of cut up MP soap and melt in microwave for 60 seconds.
Repeat Steps 1-4 above using second color.
Stir both mixtures before starting to scoop. Make sure both have thickened slightly.
Using an ice cream scoop with a squeeze handle, scoop some of one color and then some of the other. Press mixture firmly into scoop then place on cookie sheet covered with waxed paper.
Repeat until all of the mixture has been used up.
If mixtures start to harden, place in microwave for 15 seconds to soften.
Allow to air dry for 24-48 hours. Package 8 scoops per jar or as desired.
Variations: To make salt scrub cubes, pour green layer into a 13 x 9 cookie sheet lined with waxed paper. Let harden slightly then spread pink mixture over the green. Cut into squares when completely set up.
We recommend silicone molds only for this recipe. It is too difficult to remove from plastic molds. Other alternatives would be a jelly roll pan, glass baking dish or plastic food storage containers lined with waxed paper. If you do this, we suggest not using these containers for food at a later date.
Label product accordingly.
To Use: Rub salt scoop into wet skin working up a lather. Pay particular attention to heals and elbows. Rinse with warm water.
Ingredient Label:
Spa Salts, Propylene Glycol, Sorbitol, Glycerin, Sodium Laureth Sulfate, Sodium Stearate, Sodium Myristate, Sodium Cocoyl Isethionate, Water, Disodium Lauryl Sulfosuccinate, Stearic Acid, Sodium Chloride, Diazolidinyl Urea, Iodopropynyl Butylcarbamate, Titanium Dioxide, Fragrance, Red 33, Green 5, Yellow 5.