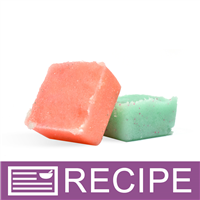 (Enlarge Image)
NOTE: If you are making these products for sale, good manufacturing practices recommend you wear a hairnet, gloves and a mask. We also recommend a clean apron and workspace.
Place 3.25 oz. Aloe Butter Blend in a large microwave-safe measuring cup. Microwave on low heat (30 seconds or less). Once the majority of the butter has melted, take out of microwave and stir.
In a separate microwave-safe measuring cup, add 2.25 oz. Extra Clear Soap Base. Heat in microwave until soap has melted.
Stir the melted soap base into the Aloe Butter Blend.
Add in 0.50 oz. MCT and 0.35 oz. Watermelon Mania Fragrance Oil and blend.
Slowly pour 12.5 oz. sugar into the butter and soap mixture and mix well to incorporate all ingredients.
Add 2 micro-scoops of both yellow and blue powders. Mix well to distribute color. Add more color if desired.
Add 2 teaspoons of green Jojoba Beads and blend into mixture.
Carefully spoon the mixture into 3 cavities of each clamshell. Press the mixture down into the square as you are filling. Do not fill completely to the top.
Repeat Steps 1-8, using the coral orange mica powder and the black Jojoba Beads*.
Once scrub has hardened, place lids on back of clamshells.
Label product accordingly.
To Use: Massage sugar scrub onto skin to gently exfoliate. Rinse off with warm water.
*Original recipe used blue jojoba beads which were discontinued so were substituted for the black jojoba beads (6/2020).
Ingredient Label:
Sugar, Aloe Butter, Sorbitol, Propylene Glycol, Sodium Laureth Sulfate, Stearic Acid, Myristic Acid, Water, Sodium Hydroxide, Sodium Cocoyl Isethionate, Medium Chain Triglycerides, Fragrance, Mica, Titanium Dioxide, Fluorphlogopite Tin Oxide, Iron Oxide, Manganese Violet, Jojoba Wax.