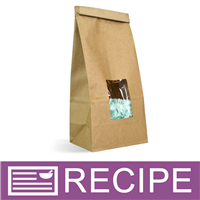 (Enlarge Image)
NOTE: If you are making these products for sale, good manufacturing practices recommend you wear a hairnet, gloves and a mask. We also recommend a clean apron and workspace.
In a large bowl, add 2 cups of Dead Sea-Coarse.
Spritz salts with rubbing alcohol and add 1/4 tsp. of Blue Mica Powder and 1/2 tsp. of Y.ellow Mica Powder.
With gloved hands, mix salts well until they are completely coated. The color will be variegated as each grain will coat differently with the mica. Set aside.
In other bowl, add 2 cups of Dead Salt-Fine Grain and 2 cups of Dendritic Salt.
Blend together with wire whisk.
Add 6 ml of Raw Sugar & Mint Fragrance Oil by drizzling over the entire bowl - not in just one area.
Mix well with wire whisk to incorporate the fragrance oil.
Combine both bowls into one and mix well to completely incorporate all ingredients.
Place one tin tie bag on a scale and fill to approximately 8.05 oz. including the bag.
When all 6 bags are filled, if any product remains this can be divided between the 6 bags.
Add ribbon or raffia to bag to decorate.
Label accordingly.
To Use:
Sprinkle 1-2 tablespoons, or more if desired, under warm running water.
Ingredient Label:
Sea Salt, Sodium Chloride, Fragrance, Fluorphlogopite, Titanium Dioxide, Tin Dioxide, Ultramarine Blue, Iron Oxide.