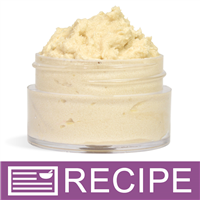 (Enlarge Image)
NOTE: If you are making these products for sale, good manufacturing practices recommend you wear a hairnet, gloves and a mask. We also recommend a clean apron and workspace.
To a large mixing bowl, add 1.7 oz. each of the Coffee Butter and the Shea Butter. Set aside.
In a second mixing bowl, add the Camelina, Apricot Kernel, Vitamin E and Flavor Oils.
To a third bowl, weigh and add the 5.10 oz. granulated sugar.
Using a hand mixer, begin mixing the butters.
Add in the oils and mix until fully blended.
Continue mixing and add in all the sugar.
Using a butter knife, fill each clear pot and screw on the lid.
Label product accordingly.
To Use:
Gently rub over lips to help remove dead skin. Rinse off with warm water. Follow with a moisturizing lip balm.
Ingredient Label:
Sugar, Coffee Butter, Shea Butter, Camelina Oil, Vitamin E, Apricot Kernel Oil, Fragrance.