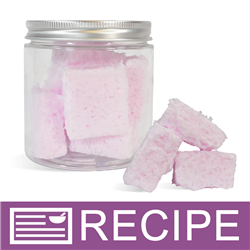 (Enlarge Image)
NOTE: If you are making these products for sale, good manufacturing practices recommend you wear a hairnet, gloves and a mask. We also recommend a clean apron and workspace.
In large microwave-safe mixing bowl, add Foaming Bath Whip.
Weigh 24 oz. of soap and cut up into small cubes. Add to Foaming Bath Whip.
Place bowl into microwave and heat until soap is completely melted.
Add a few drops of Stained Glass Strawberry Red Liquid Dye or until desired shade of pink is achieved. Gently stir to incorporate.
Add entire 2 oz. bottle of Peppermint Stick fragrance oil and mix.
Stir in 2 lbs. of European Spa Salts and let sit for 5 minutes.
Stir entire mixture well before pouring into a large jelly roll pan. If desired, line pan with parchment or wax paper for easy removal. Tear off a larger sheet so it lines the pan up the sides. Should the mixture become too hard, place in microwave for about 10-15 seconds to heat up.
After pouring, spread out mixture evenly in pan and then spritz lightly with alcohol to release any surface bubbles.
Pan can either be placed in freezer for about 30 minutes or let set out at room temperature to harden.
When ready to cut, decide on how many cubes you want to make. (If paper was used to line the pan, carefully remove solid scrub by lifting up on the paper.) We cut our pieces into 1.25" cubes using a ruler to draw the lines on top. This will yield 96 cubes.
Place 8 cubes in each jar and apply lids.
Label product accordingly.
To Use: Rub salt scoop onto wet skin working up a lather. Pay particular attention to heals and elbows. Rinse with warm water.
Ingredient Label:
Sea Salt, Propylene Glycol, Sorbitol, Glycerin, Sodium Laureth Sulfate, Sodium Stearate, Sodium Myristate, Sodium Laurate, Cocoa Butter, Water, Disodium Lauryl Sulfosuccinate, Stearic Acid, Sodium Chloride, Diazolidinyl Urea, Iodopropynyl Butylcarbamate, Titanium Dioxide, Fragrance, Red 33.