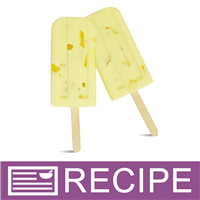 (Enlarge Image)
NOTE: If you are making these products for sale, good manufacturing practices recommend you wear a hairnet, gloves and a mask. We also recommend a clean apron and workspace.
To microwave safe measuring cup, add Clear Soap Base and 0.30 oz. Lemon Yellow Color Bar. Heat in microwave until melted.
Pour soap into Guest Loaf Silicone Mold and let set up.
Remove soap from mold and cut up into small chunks. Set aside.
To large, clean measuring cup add White Soap Base and 0.30 oz. Lemon Yellow Color Bar. Heat in microwave until completely melted.
In plastic beaker, add Fragrance Oil and Vanilla Color Stabilizer. Mix and let sit for 2 minutes. Add to melted soap and stir.
When soap has cooled to 130°F, spritz yellow soap chunks with rubbing alcohol.
Pour a small amount of melted soap into the bottom of first soap pop cavity. Follow with a small handful of bright yellow chunks. Pour more melted soap over, being sure to tap the mold to get soap down between the pieces. Continue in this manner until the soap cavity is filled to the top. Spritz with rubbing alcohol.
Repeat this process until all 6 cavities have been filled. Place lid on mold and insert popsicle sticks halfway into each soap. Let completely harden.
Remove soaps from mold being careful not to pull on the sticks.
Wrap each bar in plastic wrap. Label product accordingly. Be sure to put a warning on your label such as "DO NOT EAT".
To Use: Remove stick from soap. Lather onto wet skin. Rinse off with warm water.
Ingredient Label:
Sorbitol, Propylene Glycol, Sodium Laureth Sulfate, Stearic Acid, Myristic Acid, Water, Sodium Hydroxide, Sodium Cocoyl Isethionate, Fragrance, Titanium Dioxide, Glycerin, Sodium Myristate, Yellow 5.