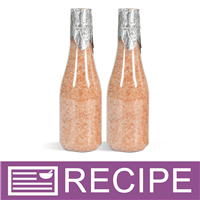 (Enlarge Image)
NOTE: If you are making these products for sale, good manufacturing practices recommend you wear a hairnet, gloves and a mask. We also recommend a clean apron and workspace.
To a large mixing bowl add 5 lb.s of pink sea salt.
Drizzle 10 ml of fragrance oil and stir well.
Sprinkle 1/2 tsp. of gold mica powder and mix well to coat evenly.
On jelly roll pans lined with waxed paper, lay out the bath salts to dry overnight.
To fill bottles, place a bottle with a funnel onto a scale and tare to zero. Fill to 10 oz. by weight. You may need to shake the bottles, this will help the salts to settle and ensure that 10 oz. will fit in each bottle. Repeat with remaining bottles.
Place caps on bottles and add a foil wrapper to each.
Label accordingly.
To Use: Pour desired amount into bath. Soak and enjoy!
Ingredient Label:
Himalayan Sea Salt, Fragrance, Fluorphlogopite, Titanium Dioxide, Tin Oxide.