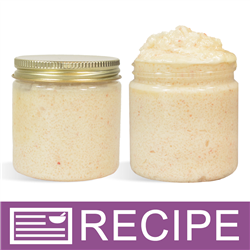 (Enlarge Image)
NOTE: If you are making these products for sale, good manufacturing practices recommend you wear a hairnet, gloves and a mask. We also recommend a clean apron, workspace and sanitized equipment.
Weigh and add Emulsified Scrub Base to a large mixing bowl.
Using a hand mixer, whip product for 30 seconds.
Gently stir in Pink Sea Salts with spoon or spatula until salts are well incorporated. If the product seems too thin, more salts can be added.
Stir in Fragrance Oil and Preservative until blended.
Fill jars with approximately 4.80 oz. product and place lids on jars.
Label product accordingly.
To Use: Massage onto wet skin using a circular motion. Rinse with warm water and pat dry. May need to be stirred slightly before use.
Not recommended for use on face.

7/2020 - Pink Salt & Sitron Fragrance Oil replaced with Pink Pomelo & Himalayan Sea Salt Fragrance Oil*.
*
Wholesale Supplies Plus is not affiliated or associated with Hempz.
.
Ingredient Label:
Himalayan Sea Salt, Olive Oil, Sunflower Oil, Shea Butter, Stearic Acid, Cetearyl Alcohol, Di-C12-15 Alkyl Fumarate, Vitamin E, Phenoxyethanol, Caprylyl Glycol, Fragrance.