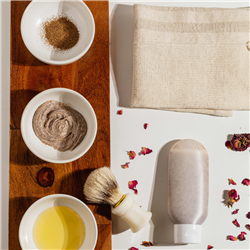 (Enlarge Image)
NOTE: If you are making these products for sale, good manufacturing practices recommend you wear a hairnet, gloves and a mask. We also recommend a clean apron, workspace and sanitized equipment.
Prepare a double boiler by filling the bottom pan with one-third water. Bring water to a boil.
To top pan of double boiler, add SCI Noodles and Cocamidopropyl Betaine. The noodles will melt from the heat of the boiling water. Be sure the water is not splashing into the top of the pan. Stir occasionally while melting. The heat can be turned down a little until the mixture is smooth and creamy. Once mixture is creamy, turn heat down to medium.
Add Jojoba Oil, Rose Hip Seed Oil, Castor Oil, Myristyl Myristate and BTMS-25. Stir gently until the waxes have completely melted into the creamy mixture. Mixture may look curdled at this point.
To a microwave-safe measuring cup, add the distilled water and heat for 2 minutes in microwave.
Slowly add Water, Glycerin, Poly 80 and Rose Hip Extract to the mixture stirring with a wire whisk.
Stir in Apricot Seeds until well blended. More can be added to make a more scrubby product, if desired.
Mix in Vitamin E, fragrance oil and preservative.
If mixture is very thin, let it set and thicken up, whisking occasionally. If the product is too thin when poured, the scrub will settle to the bottom of the bottle.
If product has thickened up, fill each bottle with approximately 4.25 oz. of product. If too thick to pour, place in a zip close bag or piping bag and cut the corner off to fill each bottle. Make sure the hole is not too large as this will make it more difficult to fill the bottles.
Label product accordingly.
To Use: Mix a small amount of scrub with warm water and lather onto face. Massage, rinse with warm water and pat dry.
Ingredient Label:
Water, Sodium Cocoyl Isethionate, Cocamidopropyl Betaine, Glycerin, Rose Hip Seed Oil, Jojoba Oil, Castor Oil, Polysorbate 80, Apricot Seed Powder, Cetearyl Alcohol, Behentrimonium Methosulfate, Myristyl Myristate, Rosa Canina (Rose Hip) Fruit Extract, Vitamin E, Fragrance, Phenoxyethanol, Caprylyl Glycol, Sorbic Acid, Sodium Benzoate, Potassium Sorbate.