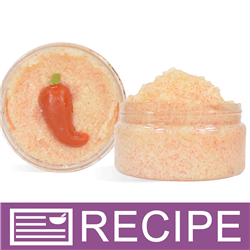 (Enlarge Image)
NOTE: If you are making these products for sale, good manufacturing practices recommend you wear a hairnet, gloves and a mask. We also recommend a clean apron and workspace.
To large mixing bowl, add emulsifying wax and avocado oil. Heat in microwave until wax has melted.
Add Avocado Butter and let melt. Stir any small pieces until completely melted.
Add Botanical Extract, Vitamin E, preservative and fragrance oil. Blend well
Place in refrigerator for 15 minutes to thicken.
To plastic beaker, add 1.25 oz. clear soap with a sliver of red color block. Heat for 15 seconds or until melted. Pour into 4 chili pepper cavities. Place in freezer for 15 minutes then remove from mold.
Remove bowl from refrigerator. Whisk thickened product with wire whisk to incorporate all ingredients.
Slowly add spa salts, stirring as they are added.
Sprinkle tomato powder over mixture and stir in.
Fill jars to approximately 9.5 oz. by weight. Place one chili pepper soap on top of scrub and place lids on jars.
Label product accordingly.
To Use: Gently massage onto wet skin. Rinse off with warm water.
Ingredient Label:
Scrub: Sea Salt, Avocado Oil, Avocado Butter, Emulsifying Wax, Fragrance, Sunflower Oil, Calendula Extract, Sunflower Extract, Aloe Extract, Irish Moss Extract, Marshmallow Extract, Tomato Powder, Vitamin E, Phenoxyethanol, Methylparaben, Ethylparaben, Butylparaben, Propylparaben, Isobutylparaben, Jojoba Wax, Red 6 Lake, Yellow 5 Lake. Chili Pepper Soap: Sorbitol, Propylene Glycol, Sodium Laureth Sulfate, Stearic Acid, Myristic Acid, Water, Sodium Hydroxide, Sodium Cocoyl Isethionate, Iron Oxides.