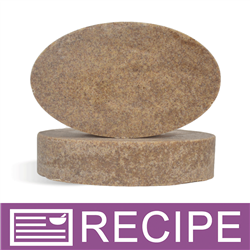 (Enlarge Image)
NOTE: If you are making these products for sale, good manufacturing practices recommend you wear a hairnet, gloves and a mask. We also recommend a clean apron and workspace.
To designated pan, add cocoa butter, shea butter, coconut oil and emulsifying wax. Heat until wax has completely melted.
Add fragrance and preservative and stir.
When mixture has cooled to around 108 °F, add walnut shell powder and mix well.
Pour into cavities of plastic mold. Place mold in refrigerator or freezer until completely hardened.
Remove from mold and package in glassine bags.
Label product accordingly.
WARNING: Product will be soft at room temperature. If making during summer months or if in a hot climate, lotion bars should be refrigerated until used.
To Use: Rub bar onto wet skin. Massage onto skin and rinse off.
Ingredient Label:
Cocoa Butter, Shea Butter, Walnut Shell Powder, Emulsifying Wax, Fragrance, Coconut Oil, Phenoxyethanol, Methylparaben, Ethylparaben, Butylparaben, Propylparaben, Isobutylparaben.