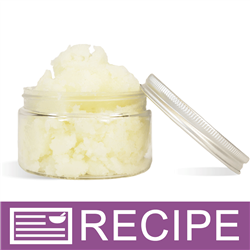 (Enlarge Image)
NOTE: If you are making these products for sale, good manufacturing practices recommend you wear a hairnet, gloves and a mask. We also recommend a clean apron, workspace and sanitized equipment.
In metal pan on stove top (or in double boiler), heat shea butter on low until melted. Add grape seed oil and stir.
Add salts to large mixing bowl. Pour melted butter/oils over salts mixing well with large spoon.
Add fragrance oil, vitamin E, Shea 50 and preservative. Stir well.
Place bowl in refrigerator for 1 hour or until mixture starts to thicken.
Remove and stir to blend in all ingredients well. Mixture should be thick enough so there is no separation of oils.
Fill each jar to approximately 5.5 ounces. Add lids.
Label product accordingly.
NOTE: This is an oil scrub and will be very slippery when used in tub or shower. Be sure to put a warning on label if selling. Do not use if skin has any cuts or open wounds as the salt will sting.
NOTE: Oil may separate from salts in jar. Be sure to mix product before each use.
To Use: Gently massage onto wet skin. Rinse off with warm water.
Ingredient Label:
Sea Salt, Grape Seed Oil, Shea Butter, Fragrance, Phenoxyethanol, Methylparaben, Ethylparaben, Butylparaben, Propylparaben, Isobutylparaben, Vitamin E.