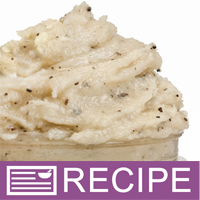 (Enlarge Image)
NOTE: If you are making these products for sale, good manufacturing practices recommend you wear a hairnet, gloves and a mask. We also recommend a clean apron and workspace..
In a metal pot over low heat or in a double boiler, heat the emulsifying wax, butters and MCT oil until completely melted.
Remove pot from heat source. Stir to incorporate any solid pieces not fully melted.
Add fragrance oils. Stir well.
Before adding preservative, be sure temperature of mixture is below 176°F. Add to mixture and stir.
Place in refrigerator or freezer until the edges start to harden against the pan and a layer forms on top.
Add sugar and poppy seeds to mixture. Using a hand mixer with a whisk attachment, whisk mixture until it turns creamy and opaque and all ingredients are fully blended. NOTE: Should you wish, you can substitute ground coffee for the poppy seeds.
Divide mixture into 4 jars and apply lids.
Label product accordingly.
To Use: Massage gently onto wet skin. Rinse off with warm water.
Ingredient Label:
Sugar, Coffee Butter, Almond Butter, Medium Chain Triglycerides, Emulsifying Wax, Poppy Seeds, Fragrance, Phenoxyethanol, Caprylyl Glycol, Sorbic Acid.