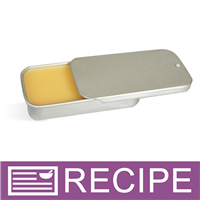 (Enlarge Image)
NOTE: If you are making these products for sale, good manufacturing practices recommend you wear a hairnet, gloves and a mask. We also recommend a clean apron and workspace.
To metal pot for stove or double boiler, add Beeswax, Cocoa, Aloe, Shea and Mango Butters. Heat over low heat until all butters/wax have melted.
Remove from heat. Let cool to about 150°F.
Add 1.5 ml each of Lavender and Tangerine Essential Oils. Stir to blend in.
Add 1/8 teaspoon of Pink Watermelon Infusion Mica and stir.
Immediately pour into all 15 lip slide tins. Let cool completely before applying lids.
Label product accordingly.
To Use: Apply to dry lips as needed.
Ingredient Label:
Shea Butter, Mango Butter, Beeswax, Coconut Oil, Aloe Leaf Extract, Cocoa Butter, Lavender Essential Oil, Tangerine Essential Oil, Mica, Titanium Dioxide, Iron Oxide, Carmine.