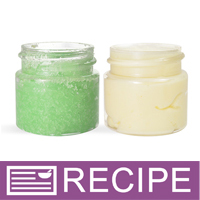 (Enlarge Image)
NOTE: If you are making these products for sale, good manufacturing practices recommend you wear a hairnet, gloves and a mask. We also recommend a clean apron and workspace.
For Pina Colada Lip Butter:
To a heat-safe pan, add the Shea Butter, Cupuacu Butter and 2 oz. Castor Oil. On low heat, melt until completely liquid.
Add 1 ml Vitamin E and 2 ml Pineapple Colada Flavor Oil to the melted butters.
Add two 0.15 ml scoops of the Yellow Mica Powder to the melted butters and stir until evenly dispersed. Set aside while you make the Lip Scrub.
For Lip Scrub:
In a bowl, measure 6 oz. of granulated sugar. Add the 1 oz. Mid Chain Triglycerides Liquid and 1 oz. Castor Oil. Stir until sugar is evenly coated in oil.
Add 1 ml Vitamin E and 4 ml Limeade Sweetened Flavor Oil and stir.
Stir in 1 scoop of NuTone Navy Mica Powder and 2 scoops of the Yellow Mica Powder.
Fill 10 of the jars with the sugar scrub. Apply Press & Seal Liners to jars. Since this is a product being placed on the lips, we recommend using the sealers to prevent tampering.
If your Lip Butter has not yet started to thicken, place the container in either refrigerator or freezer for a few minutes. When the oils and butters come to a semi-solid consistency, use a hand mixer to whip to a fluffy cream-like texture.
Carefully scoop into the remaining 10 jars and allow to come to room temperature before adding the Press & Seal Liner and capping.
This butter will harden once it comes to room temperature and will not stay fluffy and soft. However, it will easily melt with body temperature.
Package one of each product into a cello bag and tie with raffia.
Label product accordingly.
TO USE: First apply a small amount of Lip Scrub to your lip and gently massage to exfoliate. Wipe off with a tissue or cloth. Finish with the Lip Butter to moisturize.
NOTE: It is not recommended to leave this in a purse or car during warm weather.
Ingredient Label:
SCRUB: Sugar, Castor Oil, Medium Chain Triglycerides, Fragrance, Vitamin E, Mica, Titanium Dioxide, Iron Oxide, Fluorphlogopite, Tin Dioxide, Manganese Violet. BUTTER: Shea Butter, Cupuacu Butter, Castor Oil, Vitamin E, Fragrance, Mica, Titanium Dioxide, Iron Oxide.