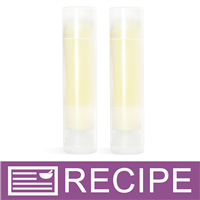 (Enlarge Image)
NOTE: If you are making these products for sale, good manufacturing practices recommend you wear a hairnet, gloves and a mask. We also recommend a clean apron and workspace.
Place the waxes in a microwave-safe measuring cup. Heat in microwave until 3/4 melted. Or, the waxes can be melted in a double boiler. Remove from heat source.
Add the Almond Butter Blend, return to double boiler or microwave. Melt butters and waxes completely.
Add Castor Oil, Sweet Almond Oil, Vitamin E and Tupelo Honey Sweetened Flavor Oil. Stir to blend in. If the mixture thickens, return to heat until liquid again.
Using a plastic dropper or beaker, fill lip tubes with liquid.
Let product cool completely before capping.
Label product accordingly.
To Use: Apply to lips as desired.
Ingredient Label:
Almond Butter, Beeswax, Candelilla Wax, Castor Seed Oil, Sweet Almond Oil, Vitamin E, Flavor.